How to guarantee sufficient fresh air supply in existing buildings?
Sufficient fresh air supply is not only important for the feeling of well-being and for optimal functioning - it is also essential for your health. In closed indoor spaces, sufficient ventilation is necessary to minimise the risk of spreading the Coronavirus. Providing ventilation in existing buildings is, however, not always easy. Therefore exhaust ventilation can be a good solution in many cases.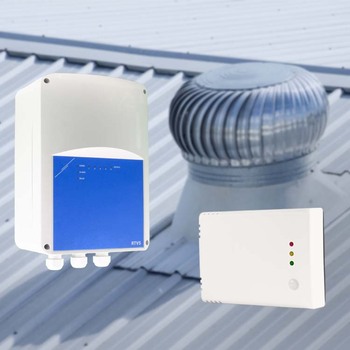 Indoor air quality
After a long time of inactivity due to Covid-19, many restaurants, bars, shops and other businesses are starting up again. In addition to the normal start-up priorities, extra attention is needed to guarantee good indoor air quality. Although vaccination is important to contain Covid-19 and additional air purification can be good, a good ventilation – especially in closed spaces - is still of primary importance to reduce the risk of spreading the Coronavirus. Since the installation of a ventilation system in an existing building is not always obvious, exhaust ventilation is in many cases the best solution.
Exhaust ventilation
An exhaust ventilation system is easy to install. Extracting stale indoor air is a simple and economical way of ventilation. When air is drawn out of the building, a negative pressure is created. This negative pressure causes an influx of fresh outside air through cracks in windows and doors. However, it also has some drawbacks. The fresh outside air is not filtered so pollen and other pollutants are not stopped. Exhaust ventilation is less energy efficient than balanced ventilation. Together with the extracted indoor air, energy for heating or cooling also leaves the building.
Demand based ventilation
To minimise energy losses it is a good idea to regulate the exhaust fan speed according to the indoor air quality. An intelligent CO2 sensor or air quality sensor regulates exhaust fan speed. Via the 0-10 Volt output it is possible to control an AC fan speed controller, a frequency inverter or an EC fan. When the CO2 level is low, the exhaust fan will run at low speed. As the CO2 level increases, fan speed will increase and more stale air will be extracted. Thanks to demand based ventilation, sufficient fresh air supply is guaranteed, while minimising the energy losses.
Monitor your ventilation system via SenteraWeb
The different HVAC sensors and fan speed controllers can be connected to SenteraWeb via an internet gateway. SenteraWeb is the online HVAC platform for remote control, remote monitoring and data logging. Both Sentera devices and registered non-Sentera devices can be connected to SenteraWeb. Indoor air quality, CO2 level and air volume flows can be visualised and logged while parameter settings can be adjusted. In case threshold values are exceeded, a notification or warning is sent via email or text message. The day-week schedule enables to optimise the ventilation system in function of the planned activities.
Who is Sentera?
Sentera is one of the leading manufacturers of control solutions for HVAC and ventilation systems. Our mission is to make intelligent HVAC control solutions that are easy to use! We develop, manufacture and promote fan speed controllers, HVAC sensors, HVAC controllers and actuator powered dampers to control airflows and to monitor indoor air quality. Today, the Sentera group counts 8 companies and 150 employees based in 4 different locations. Headquarters and the central warehouse are located in Temse, Belgium. Sentera is a 100 % family owned group of companies. For more information, contact Sentera!