 What is PoM or Power over Modbus?
Many Sentera products can share information via Modbus communication. Modbus is a serial communication protocol that uses RS485 technology. Sentera Modbus-compatible products are more affordable and reliable and they can communicate in two directions.

Based on the Modbus technology, Sentera developed the concept of Power over Modbus or PoM to interconnect Sentera products. The PoM concept means that Modbus data communication and 24 Volt supply voltage are distributed via one single UTP cable (Unshielded Twisted Pair cable).

Benefits of Power over Modbus
The PoM concept reduces the risk of data losses due to disturbances and interference. When Sentera products are interconnected via PoM technology, the combined branch lengths become less critical, compared to a standard Modbus network. More and longer branches can be added to the network before disturbances and data losses will occur.

The PoM concept makes wiring easier and more efficient. The PoM concept makes it possible to connect different HVAC sensors, potentiometers and other Sentera devices over one cable. Sentera –M and -H series HVAC sensors feature an RJ45 socket. These sensors can be connected via one simple RJ45 connector! It reduces the risk of wiring errors. Sentera 24 VDC power supplies are also available with RJ45 connectors.
To simplify wiring, we also offer RJ45 splitters and distribution boxes.





Crimping an RJ45 connector is easier and more efficient than classic wiring. Grounding, power supply, and the Modbus in and output are all in the right place. This movie shows how easy it is to crimp an RJ45 connector from a simple UTP cable: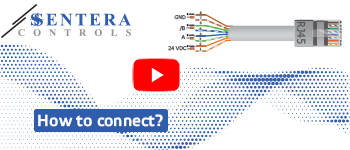 Modbus communication offers the advantage of longer cable lengths compared to analogue signals. A cable can be up to 1000 meters long with Modbus. The PoM concept makes even longer cable lengths possible.

Examples of a Modbus network
Modbus is especially interesting for demand-based fan speed control, but can also be used for other applications. Sentera sensors are mostly compatible with Modbus. We also have Modbus-compatible fan speed controllers and motorized dampers. Depending on the product, more or fewer parameters can be read out.

Many motors still require an analogue signal to work. That means that a Modbus network needs a digital-to-analogue converter to convert the Modbus signal to an analogue signal. This converter can be built into a device, like in -H type sensors, or be an external device.

Benefits of a Modbus-compatible fan
Many motors still use analogue inputs. If a motor is analogue, the only thing you can be sure of is the requested fan speed. You do not know for sure how much of the analogue signal reaches the fan. When using Modbus and the PoM concept, extra information from the connected devices is available. If the motor is compatible with Modbus, motor parameters are available, like actual motor speed, motor status, motor temperature and much more information. All of these can then be monitored and logged through SenteraWeb.

This has many useful applications. For example, if you use thermal contacts, you can see if the motor overheats with an analogue signal, but with a Modbus motor, the motor temperature is given as a readout. Another application is energy efficiency and recuperation. With a Modbus-compatible fan, you can be sure that your fan works even more optimal than before.